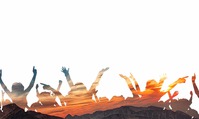 "Living In Truth" (L.I.T.) is a Catholic Youth group at Our Lady of Lourdes.
We pride ourselves in loving Christ and aiming to be true disciples.
We're here to walk with you in your journey of faith through service projects, bible studies, talk series, and fellowship. We care about you, your faith, questions, and ultimately our goal is to help you get a little closer to heaven!
Be sure to check out the testimonials of your peers!
---